Special Pups for Special People: Part Two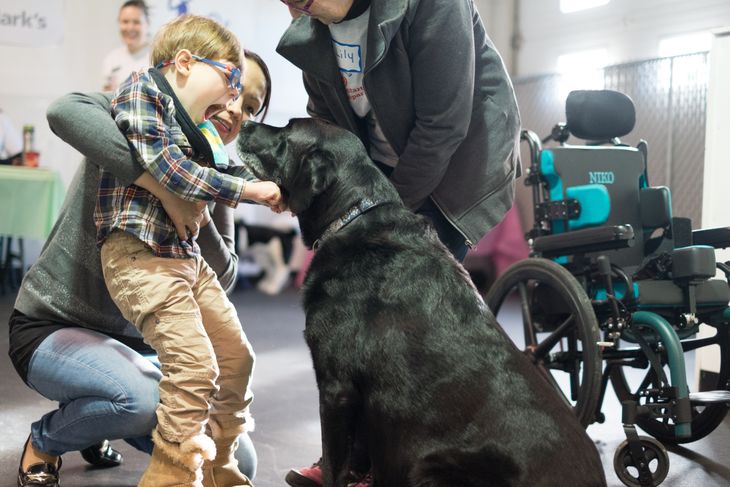 In part one of my two-part blog, I introduced you to Brittany Harrison and her very special dog, Avery, who is deaf. Brittany had come up with the idea of creating a Special Pups Day Camp for children with special needs through caring for Avery and growing up with a cousin who has autism.
The Special Pups Day Camp would look something like this: through a set-time of participant observation and various role playing with specially trained dogs, special needs children would learn such things as the proper way to greet a dog, how to recognize its receptiveness, and how to build trust through proper dog massage. Here is how it all came together.
In March 2016, Brittany got a chance for a funding opportunity through Jumpstart, the Canadian Tires Charities. But before she presented it to them, Brittany first broached the idea to her aunt, who is the mother of her cousin with autism. Her aunt was of the view that all children, including those with special needs, should learn how to be friendly and safe around dogs. This encouragement gave Brittany the confidence she needed.
The Jumpstart representative liked the concept. But, he questioned whether her program would fit into their mandate, which is to improve children's physical fitness by removing barriers that would otherwise prevent them from engaging in sporting and recreational activities. From his perspective, the Special Pups Day Camp was not a traditional physical activity of doing something that got the body moving several minutes per day, several days per week. So he discussed it with Marco Di Buono, the Associate Vice President of Operations of Jumpstart.
I interviewed Dr. Di Buono to get his impression. He said that Jumpstart's management team and board members agreed that the Special Pups Day Camp was indeed a good fit, for two reasons. Firstly, they recognized the concept of physically active is different for the special needs population, and secondly, Brittany's program would give this group of children an opportunity to fulfil their dreams. So they decided to fund it.
Brittany quickly got to work, on her own time, preparing the legal forms, developing the logo, setting up the pilot project, and recruiting the participants – both the children and dogs! They partnered with Calgary Cerebral Palsy (one of Mark's community partners) and clevercanines (which also provided the space to house the program). I met with Bianca at clevercanines, along with a few of the dogs lending their paws to the project,
Over my career, I have conducted thousands of interviews, but never with dogs as my subject matter. What a pleasure it was!
After being greeted in a very friendly manner by the receptionist and two dogs, I met with Bianca, and four other canine cohorts in her office: two Chocolate Labrador Retrievers, a Border Collie/Jack Russell mix, and a pure German Shepherd. Her office space was no more than 200 square feet. But the dogs' calm and gentle demeanour made it feel as if it was of limitless space.
Similar to Brittany, Bianca is no stranger to dogs with a disability. Her dog, Akira, one of the Chocolate Labs, has epilepsy. However, this was Bianca's first time developing a canine curriculum for children with special needs.
Because of this, she found that piloting the project, prior to launching it, was so valuable. This gave them the chance to test out and modify their instruction to avoid overwhelming the children or the dogs.
So launch day, October 22, 2016, included six children with disabilities ranging from microencephaly, cerebral palsy, autism, and hearing impairment; six dogs, including Avery and Akira, along with six dog trainers – all trained through clevercanines; and three volunteers helping to oversee registration and lunch. The event was the success that Brittany and her team had hoped for.
The human participants interacted well, and in a safe manner, with the canine ones and they learned a few new skills. But the biggest highlight of the day, according to Brittany, was seeing the children's faces light up with laughter and smiles. I witnessed the Special Pups Day Camp in action on its second day.
Each child, coupled with at least one attendant care provider (who were mostly parents), were set up at a station arranged at various points around a circle. First, there was a demonstration, by a trainer and a dog, of the various skills the children were to learn. Then, the dogs and trainers took turns systematically moving around to the stations to give the children a chance to learn and just have fun interacting with the different breeds of dogs.
Most children were limited in their expressive language abilities. But, their wide-open eyes and smiling faces were enough to show me how much they were enjoying themselves. The wagging tails, wet-nose nudges, rollovers, and other friendly canine behaviours were an additional testament to the program's success.
Like Brittany, I too was uplifted by this experience. But, the best part for me was watching the shared moments of eye contact and engaging smiles between the parents and their children!
Brittany and her team will continue to work together, and funding organizations, like Canadian Tire Jumpstart Charities for children, plan to be there to support them financially.
Tell us your canine or pet story that changed a life for a person with a disability. At Disability Matters we're here to help. We're hear to listen.